Coke Studios has 4 major public versions of the game. The majority of the game was completed between 2002 and 2004.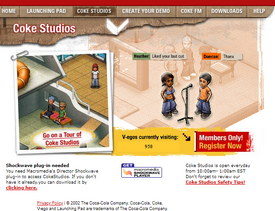 The first public version of Coke Studios was released. The earliest evidence of public existence dates back to June 2002.[1]
This version contained over 80 furni items and involved website games such as, Coaster, V-Ego San, and Pop Quiz. The original game was developed under Sulake Oy, creator of other simular games such as Habbo Hotel. Later, operation would be handed over to StudioCom.


Beta existed for testing 2.0. This version was offered beginning some time between August and June 2003 [2]. This version of the game lasted until December 29, 2014, along with Shark Tale.
"Coke Studios is Open!
Coke Studios is available during regular operating hours while finishing touches are given to Coke Studios 2.0. We're still bringing you all the new features and venues, but wanted you to continue to enjoy Coke Studios while we finished up."
— [citation needed]
See main article: Shark Tale.

Shark Tale was a separate version version of the game released around August 2004[3] (Likely August 3, 2004 as the dynamic poster furni began at a 59 day countdown to the movie launch on October 1, 2004). A Whale Wash game added to cokemusic.com, 14 new furni items were added to the game, and new public rooms were added.
The Shark Tale version ended right before the launch of 2.0 on December 29, 2014.
2.0 and onwards was the final major game release. The transition from 1.0 took place immediately after the end of Shark Tale on December 30, 2014. In this era, the game was rebranded from Coke Studios and Coke Music to MyCoke.
"Welcome to Coke Studios 2.0!
We have added exciting new features and functions to Coke Studios & we want to know what you think. Get in on the action and help us test things out. If you see a glitch, you can report it by clicking the "?" button at the bottom of the Coke Studios window, then click the "Report a Technical Problem" link. We can't respond personally to your comments but we value all your feedback!


Here's What's New!
The following features have been added to make using Coke Studios even more fun!

5 New Public Venues -- In addition to the public venues already in service, there will be 5 new public venues: San Francisco, Mexico, Central Park, New Orleans and Neptune.
Rearrange and Rename your Studio -- All your furniture for your personal studio is in your backpack, ready for you to start fresh, rename and redecorate!
Top 40 makes a Fresh Start -- We are making a new beginning with the Top 40 chart, so get in on the action and make your votes count!
Backpack Organization -- If you have more than 25 items in your backpack, you will be able to scroll through multiple pages. Backpack items will now by sorted by the date they were acquired. This means newly purchased or traded items will show up on the first page. How convenient!
More Furniture, Fewer Decibels -- Reduced pricing for all catalog items making it easier to acquire more pieces of furniture faster.
More Personal Studios -- Instead of the current limit of 6 personal studios, you can now have up to 10.
Furniture Placement -- Users will now have the ultimate control over how their virtual furniture appears in their rooms.
Studio Decorating Control – Users will be able to choose the layering of posters and/or rugs. Now you will be able to move wall items throughout the room without having to pick them up first.
Full Room Notification -- If you try to enter room that appears to be almost full but fills up while you are loading, you will receive a message to let you know that the room filled up and that you are being returned to your previous location."
— Launcher pop-up[4]
Community content is available under
CC-BY-SA
unless otherwise noted.