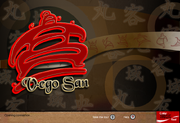 V-Ego San, also known as "Sumo Wrestling", was a game played outside of the client. With a certain number of wins, players could receive free furni in the studios.
The gameplay of V-Ego San is similar to Rock-Paper-Scissors, but with five wrestling moves. After a player loses two out of three times, they leave the ring, and the winner keeps playing, and fights the next person in line. If a player is away during a turn, the computer chooses a move for them.
For consecutive wins, you would win Furni.[1]

The game was designed in much the same fashion as the popular game 'Rock, Paper, Scissors', in that each move had a counter and no one move had any more chance of winning than any other.
Head Hit beats Flying Punch and Body Blaster.
Body Blaster beats Overhead Toss and Flying Punch.
Flying Kick beats Body Blaster and Head Hit.
Overhead Toss beats Head Hit and Flying Kick.
Flying Punch beats Flying Kick and Overhead Toss.
References
Edit
Community content is available under
CC-BY-SA
unless otherwise noted.