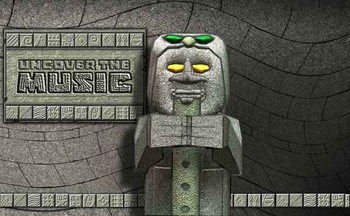 Uncover the Music was based off of a simple "match the cards" game. However, this game used a Mayan Temple as the location for the game.
2-5 players would gather at the temple, through a separate client. (Could be played if Studios where offline)
The "host" (or first person to join) would decide when to start.
Players would take turns flipping stone tiles (2 at a time/per turn) to attempt to find a match.
If a player got a match of tiles, they would receive an extra turn.
Each match would give you 1 point.
The game would end in only 2 scenarios: If everyone quit/left the game or if all of the tiles would be flipped.
Each player would receive 5 [citation needed] decibels per match found. The person with the most tiles flipped would receive a 500 [citation needed] decible prize.
A common problem that occurred is, once a player would win- it was easy for other players to simply leave the game! This would technically cause the winning player to lose.
Community content is available under
CC-BY-SA
unless otherwise noted.