Tuukka Savolainen, known as "Polyfon" during the Coke Studios era, and now commonly known as "Polyfonken" and "Ghost Monkey", is a Finnish artist. He was one of the first, if not the first, graphic designer for Coke Studios under Sulake Oy. He is responsible for the design of furni such as, Premiere, the 5001 Collection, many Necessities, and more. In addition, he worked on many of the first public rooms.
Other work
[
]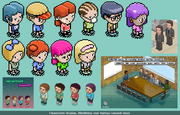 See also: A Habbo Wiki blog on Polyfon
Outside of Coke Studios, Polyfon worked on Habbo Hotel and Minifriday, a now defunct Sulake mobile game. In addition, He has worked on various music-related projects both professionally and recreationally.
Gallery
[
]
This is a gallery of images on Polyfon's website.
External links
[
]