See also: Online Catalogue/Code.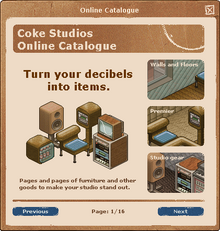 The Online Catalogue, also simply known as "Catalog", was the menu used to purchase most furni and the only place to spend Decibels.
You can customize the way your Studio looks with these wall and floor variations. Be sure to pick matching colors!
Floor 500 dB
Wallpaper 500 dB
Our exclusive furniture provides you with moments of slick heavyweight comfort. Enjoy it while the prices are low!
Premier Light 450 dB
Premier Minibar 500 dB
Premier Stereo 500 dB
Premier Table 950 dB
Premier Coffee Table 450 dB
Premier Sofa 625 dB
Premier Stool 450 dB
Premier Chair 500 dB
The 5001 product range is the closest you'll get to comfort!
5001 Cube Light 600 dB
5001 Minibar 500 dB
5001 Sound System 500 dB
5001 Table 950 dB
5001 Coffee Table 450 dB
5001 Sofa 625 dB
5001 Stool 450 dB
5001 Chair 500 dB
Authentic-looking fake vintage studio equipment helps you look more professional and gets your creative juices flowing.
Blank CD 50 dB
Retro Speaker 650 dB
TV 575 dB
Cables 50 dB
Microphone 100 dB
Wooden Speaker 450 dB
Sampler Rack 900 dB
Equipment Rack 450 dB
On page 6
[
]
With this stuff you can really make your Studio breathe and create groovy spaces.
Corner Piece 400 dB
Furry Rug 600 dB
Straw Mat 450 dB
Psychedelic Carpet 450 dB
Tulip 75 dB
Potted Plant 350 dB
Tinted Separator 600 dB
Acoustic Pad 600 dB
On page 7 (Separator colors)
[
]
With these ultra-cool separators that double as bar desks you can arrange your Studio the way you want to!
Blue Separator 225 dB
Green Separator 225 dB
Orange Separator 225 dB
Steel Separator 225 dB
Yellow Separator 225 dB
Grey Separator 225 dB
Beige Separator 225 dB
White Separator 225 dB
On page 12
[
]
Dorm room style beats. Makeshift furni for better lounging!
Surf Board 625 dB
Stylish Couch 625 dB
Funky Chair 450 dB
Instant Table 625 dB
Dorm Light 450 dB
Instant Bookshelf 500 dB
Boom Box 450 dB
Old Fridge 450 dB
On page 15
[
]
Household needs.
Winter View 500 dB
Entertainment Center 500 dB
Fireplace 500 dB
Bookshelf 500 dB
Kitchen Cabinet 500 dB
Kitchen Sink 500 dB
Oven 500 dB
Refrigerator 500 dB
Oodles of authentic Coke items. Come and get a polar bear statue of your own!
Coke Couch 2500 dB
Coca-Cola Neon Sign 2000 dB
Lava Lamp 950 dB
Coke CD Player 450 dB
Polar Bear 800 dB
Coke Cooler 200 dB
Leather Chair 650 dB
Minibar 500 dB
For Walls

[

]
Add a final touch to your studio decoration with these instruments and posters.
Top 40 Chart 500 dB
Tropical Poster 225 dB
Disco Poster 225 dB
Retro Keyboard 225 dB
Acoustic Foam 225 dB
Trumpet 225 dB
Bass 225 dB
Guitar 225 dB
MyCokeRewards (furni)

[

]
Game Rewards
[
]
Special
[
]